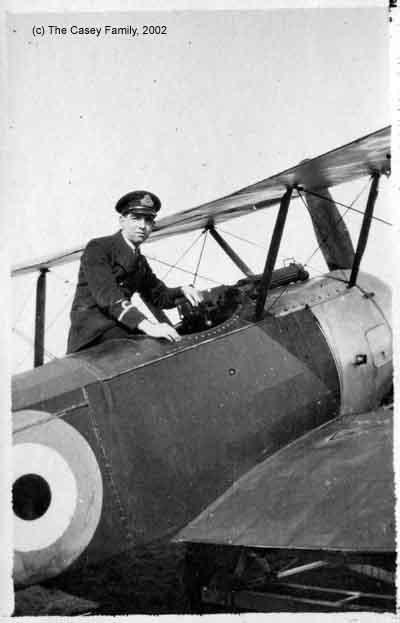 Lieutenant Walter Albert Yeulett DFC, "Toby" to his family, was my great uncle and in World War 1 he was awarded a Distinguished Flying Cross for his part in a famous bombing raid on the Tondern Zeppelin base during which he was killed at the age of just 19.
I remember seeing pictures of him when I was a child but I never knew why he'd been awarded a DFC so in April 2000 I decided to try and find out. At the time I had no idea what I was letting myself in for.......
As a starting point I found the citation for his DFC (London Gazette, 21st Sept 1918) which read: "Lieut. Walter Albert Yeulett (Sea Patrol) was engaged in a long distance bombing raid on an enemy aircraft station, under very difficult circumstances, and carried out a successful attack from a low height in the face of severe enemy fire."

I thought I'd be happy just to find the above citation but a visit to The Aerodrome website told me that he'd died on a bombing raid from an aircraft carrier and that it was a hugely significant event. As a result I found myself with a major project that has now occupied me for over 10 years.
I discovered that the Tondern Raid in July 1918 was the first ever bombing raid to be launched from an aircraft carrier and that prior to joining the carrier, HMS Furious, he had taken part in the very first trials for landing aircraft on ships. In his short career he had thus played a crucial part in the development of those early carriers and this website tells the story of his career, of those early trials and of course the Raid on Tondern itself.
During the project we found my Great Uncle's photograph album of his RNAS career and this largely inspired this website since I felt these rare pictures should be seen. They obviously belong to my family and so I would ask that they are not used or published elsewhere without our express permission so please ask! Please get in touch via the Contact link below if you would like to see or use the original pictures or any of the other material that I have collected.
Throughout the project I have been contacted by a great many people and have received wonderful help from historians, museums, aviation and history fora, researchers and authors so please visit the Links and References page which is there to thank all the people who have helped.
Please drop me a line if you find this site interesting (NB. Amend the address to include the @ symbol)
William Casey