How the papers reported the raid
Click the images for full size versions
The Tondern Raid was reported widely by the world's newspapers in the following days although, exactly as happens today, they didn't always get the details correct. Many did simply take a report from The Admiralty word for word so many articles were therefore identical. Other reports are available on other websites on a pay basis.
Most of these come from a wonderful, free and fully searchable source of old newspapers at Papers Past, a service provided by the National Library of New Zealand who allow limited publication of out of copyright items provided they are credited.
The first article from Papers Past below is from the Poverty Bay Herald in NZ on 8th August 1918 reporting the visit of the King to HMS Furious and contains some interesting details of the Raid.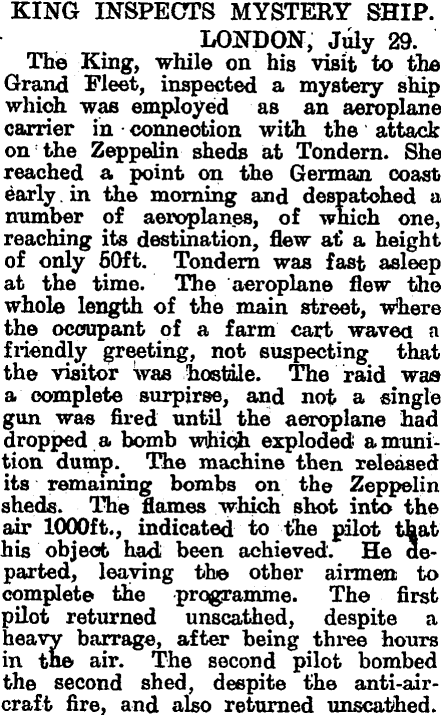 The second article, below left, is a report from the same paper on the 22nd July 1918 which suggests Yeulett may have landed and bought fuel before crashing. I have yet to trace quite where this version of events comes from but I am trying to find out (which may mean searching Danish language newspapers!) but it is a version of events that I am inclined not to believe. Below right is The Thames Star in NZ on the 22nd July which uses the Admiralty report widely reproduced elsewhere.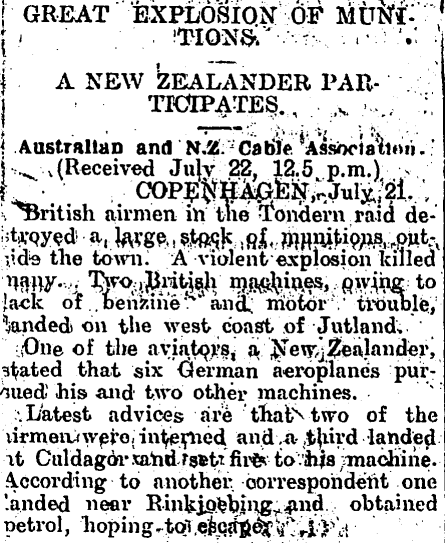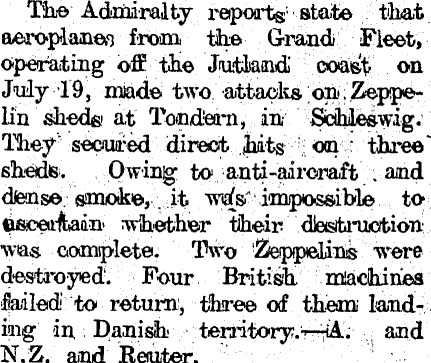 Also from Papers Past comes a much longer piece from the Otago Daily Times in NZ which sums up other recent actions in addition to the Tondern Raid. This one is too long to display so is available via this link. Also another longer piece from The Colonist paper in NZ dated November 4th is here.
The New York Times digital archive also contains a lengthy report covering both the Tondern Raid and other significant operations around the same time. You can find the article via this link to their website, click the "Read Full Article" button to get the full PDF.
---