"Whilst the machine was burning the Vickers ammunition started to explode, although I did not realise this until afterwards. Immediately after landing a small group of farmers began to collect but they made no attempt to interfere with me, believing at first that I was German. When the machine was well afire I spoke to one of the farmers [edit] he took me to his farm where I met his brother who could speak fairly good English, having been in America some time. He also provided me with breakfast.
We drove to Esbjerg [3 miles away] without arousing very much attention, left the horses and carriage at the inn, and walked to the consulate. The time being 8.30 am. I explained to the Consul that I had been obliged to land in Denmark owing to lack of petrol and wanted to get away. He than rang the Legation of Copenhagen who, however, put forward small hopes of my escaping internment.
About 11 o'clock two gentlemen arrived and I discovered to my sorrow that they were policemen. The Consul informed me that the Chief Magistrate wished to see me and we proceeded there. He welcomed me very kindly and proceeded to cross-examine. He enquired as to the time of starting, where I had been, and what was my base. I informed him that I had been over Germany but refused to answer any questions about time of departure or base. At about 12 o'clock Lieut. Williams was brought into the office where he was also cross-examined. We then taken by the inevitable Ford car to the scene of the landing. [edit] The Magistrate asked me several questions about the machine, and those which were of no importance I answered. We were then driven back to Esbjerg and told that we would be quartered at the Palads Hotellet. We at once proceeded to our quarters guarded by two policemen.
Side Note: The Palads Hotellet still exists on Skolegard in Esbjerg, now renamed the Cabinn Esbjerg, and is pictured below as it is now and how it looked just after the war. Early picture from www.slotmachines.dk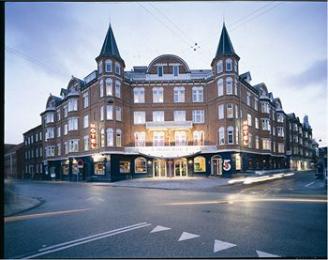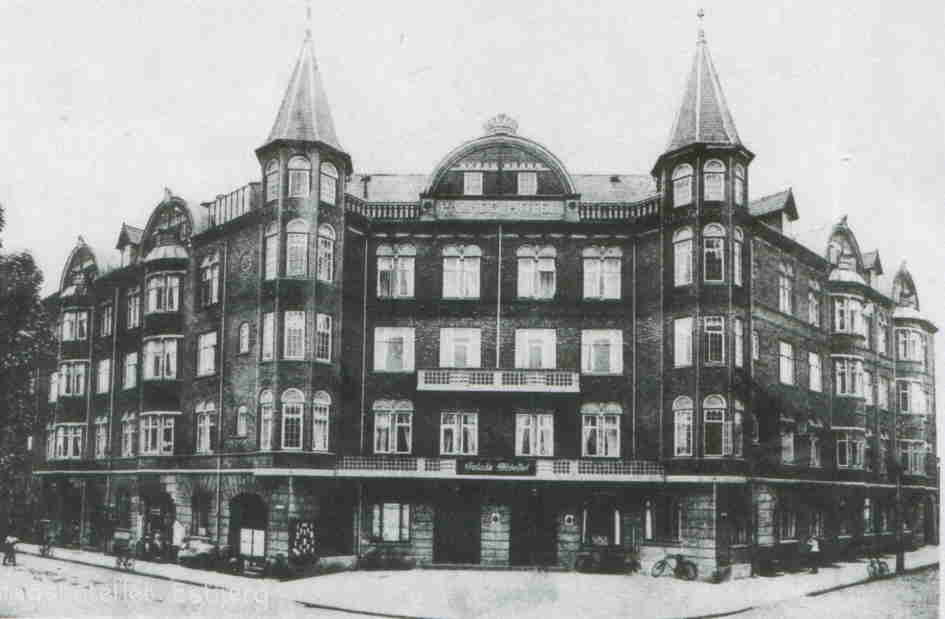 [Back to the original text] At 5 o'clock in the evening Lieut. Dawson arrived having been stopped at the railway station on his way to Kolding. At 6 o'clock the Magistrate sent for us again and we were all cross-examined separately. Apparently information had reached the papers about where we had been and the number of machines starting. The evening was spent at the Hotellet where every hospitality was afforded us.
At 11.30 the next morning, the 20th July, the Consul, Mr. Cross, came to see us and, whilst the police were out of the room, started talking about escape. Lieut. Dawson, who was the only person wearing civilian clothes, decided that he would try and escape with Mr. Cross. Whilst Mr. Cross was talking to the police Lieut. Dawson left the hotel. It was not until 12.15pm that the police became worried about Lieut. Dawson when they came in and asked where he was. We replied that he was telephoning. They then proceeded to search the hotel for him and it was after 12.30pm that the alarm was raised.
We had signed parole for 1 o'clock but owing to the escape of Dawson we were kept to our rooms and guarded by a policeman. During the afternoon Captain Bistrop and Kommander Carstensen from the gunboat in the harbour very kindly called on us and offering any services. That afternoon, accompanied by these Officers and two policemen we proceeded to buy clothes. It was not until the 23rd when Carstensen protested about our being escorted by policemen after signing parole that we were finally allowed out by ourselves.
On the evening of the 29th we were informed that we were to be moved to Aarhus [Major town on the east coast of the Jutland peninsular]. At 12 o'clock the next day we were handed over to the military authorities. We had an apartment to ourselves on the train to Aarhus accompanied by Mr. Cross, the Consul at Esbjerg, who was very kind to us during the whole time we were at that place. At Kolding Station Mr. Cross came to the compartment and informed us that he had a man waiting for us at Horsens station with bicycles if we could manage an escape. We attempted to escape through the lavatory window but this proved impossible and there was an officer standing outside so we had to remain on the train.
On arrival at Aarhus we were handed over to Captain Ferk, who was the officer looking after our comfort at the internment camp. We were greeted at the station by Lieut. Garricock and Lieut. Simpson. We were then driven to the internment camp.
That night we were informed by Lieut. Garriock and Lieut. Simpson that all preparations had been made for escape and we were only waiting wind from the South West. The escape plan was that having got rid of 3 of the sentries into a certain position, two of the railings could be lifted up at a point where the sentries could not see us, and we could crawl out of the barrack and take a yacht which was waiting for us.
The next day Lieut. Williams and myself were introduced to a Danish gentleman called Mr. Halling. He was proceeding to Copenhagen on the Thursday evening and very kindly offered to conduct us to Copenhagen if we were able to get away. The steamer left Aarhus for Copenhagen every evening at 11.30pm. At 10 o'clock Thursday night Lieut. Williams, Lieut. Simpson and I went into the bicycle shed from where we had to get under the railings. The sentries became suspicious and we could not get by them so we abandoned the attempt. Mr. Halling repeated his offer to take us on the following Monday night but everything depended on whether the Watch Commander was slack or did his rounds regularly. On the Monday he was slack but it was awkward for us to get away as he was in the habit of sleeping in our quarters. [They abandoned the plan again].
We were allowed to do as we pleased so long as we wrote our names in the parole book, 12 hours being the maximum amount of parole allowed at a time. Having abandoned our plans we decided to go for a walk so we told the Watch Commander to ring for the sentry to let us out of the gate. The sentry asked how many were going out and we said "two" but he sent a Corporal to us with the book rather than bring it himself - so Lieut. Garriock signed the book and passed it to Lieut. Simpson and then myself. I pretended to sign it, leaving only two signatures, and then passed it to Lieut. Williams and then back to Lieut. Garriock who closed the book and the Corporal did not check the contents and opened the gate. Once we were outside Lieut. Simpson informed me that he hadn't signed the book either so we decided to make our escape and asked Lieut. Williams to go back and put dummies in our beds in case our rooms were checked.[Two paragraphs edited out].
We met Mr. Halling by the boat and we sailed at 11.45 pm and we arrived in Copenhagen at 08.45 the next morning. We agreed that Mr. Halling would leave the boat first and that we would leave singly after him. We expected to get arrested as soon as we left the boat but we afterwards discovered that the authorities were not aware of our absence until 11 o'clock that morning. Mr. Halling had arranged for a friend to take us by yacht across to Sweden so we went to his friend's house where we were given breakfast while arrangements for the yacht were completed.
[Next bit much abbreviated and paraphrased] We were to take a tram from the friend's house to the harbour singly but I got separated from Simpson and walked around a harbour that I found at the end of the tram service. I spotted two yachtsmen heading for a boat and followed them. I had by chance spotted the men who were to take us to Sweden and met Lieut. Simpson at the boat. We left at noon without any interference and were soon heading out of the harbour.
[Original text again] At about 3 o'clock we were approached by a Hun trawler coming across from the Kattegat. Thinking at first that it was the Swedish Customs we made a course for Elsinor and pretended to be heading there. The trawler came much closer and at 50 yards we realised it was German but the crew just waved at us. We then altered course for the Swedish coast and about a quarter of an hour later we spotted two German seaplanes steering towards the Kattegat. They left us alone and once offshore of Sweden we went ashore in a dinghy which then returned to the boat which turned and headed for Denmark.
We started to walk towards Helsinborg when a Swedish Customs official (who had seen us land) stopped us. We told him that we wanted to see the British Consul but he would not allow us to do so. We continued to walk but he stopped us by force. He could not speak English and we argued for about 3/4 of an hour. He eventually took us to La Fortuna [correct name is Fortuna without the "La"] where we tried to telephone the Consul. We eventually spoke to him and told him we were two British officers who wished to see him. We arrived at Landskrona at about 8 o'clock and were met by the Consul. He had arranged that we should also meet the Mayor at 10 o'clock the next day. The Mayor asked us a great many questions about how we had reached Sweden but we refused to give that information.
Eventually we were allowed to depart for Gotteburg [better known as Gothenburg] where we were met by one of the British Consuls, Mr Castleton. We had to wait two days for our passports but were unable to get visas to enter Norway but we were able to get a wire from Stockholm to allow us over the frontier so we left Gotteburg at 7.30 a.m. August 10th and reached Christiana in Norway at 9pm. The next morning we took a train for Bergen at 07.30 and arrived at 9 p.m.. We saw the British Consul at Bergen who arranged for us to quarter on the SS Prince Arthur which was to sail the next day. She arrived in Aberdeen on the 13th August where we obtained rail warrants from the Senior Naval Officer and we finally reached Edinburgh at 3.30pm that same day. Finding the ship ["Furious"] out [from Rosyth dockyard] we returned to the airfield at Turnhouse the next day."
---
A further account of this part of the story comes from a newspaper in New Zealand, The Te Puke Times, via this link on Papers Past, a free respource from the National Library of New Zealand. Lieut. Samual Dawson was a New Zealander and the paper reported both his DFC and his exploits whilst escaping internment.
---